Keys!
I have recently notice some of my keys are unless and have been carrying and putting weight on my pocket. (that will explain why my pant would drop)

Looking at the reduntant keys, some of which are useless even a few years ago. It is very bulky and uncomfortable especially when it is placed at the back of your buttock. Nonetheless, you feel like you have a "seh" around you, like the keys could open a safe full of goldbars in my house.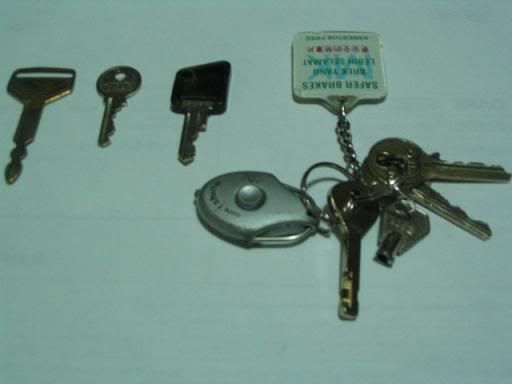 Key from the right:
1) Car Key (Corolla)
2) Small Lock key
3) Bicycle Chain Lock key
(Bicycle stolen ard 4 years ago. I think I should put this key to the crime sence so that thief could retrieve it?!)


5:47 AM


Happy Chinese New Year
Wish all of my friend a Happy Chines New Year! Wish those who want to tio TOTO win big big, those who want to get prettier more prettier, those who want to lose weight, quickly lose more weight the correct way.

Hmm.. when i think of this year new year, kind of strange cos I'll be going to graduate n serve NS this year. Which mean to say this is the last year I will be celebrating CNY as a civiliian. Next year will be a botak CNY for most of us. So must celebrate as much as we can now. Haha..

Gong Xi Fa Chai!
6:42 AM


I have found you!

It happened 20 years ago when my parent decided to bring in one family member. It was a Toyota Corolla. We enjoy the ride she gave us and where you want to go, she would take you there. having the breeze sweep through your face, you will feel nothing is better on earth. It defintely brought joy to us.



picture of her during the last remaining year..

Over the year, she has been in great service to us. She carried heavy loads of equipment, tow a pickup, transport 8 persons seomtime.. But the age catches up on her, she got sick more often until lately, we know it is time for her to take a rest (aka scrap). We bid good bye to her in year 2005. It was a heart breaking moment.


Recently, I deceided to do a search for her again. I have no idea where and how to look for her. So I posted on newspaper and conducted serveral search national wide. I track down the muderer agent who takes off the life support system (aka deregister).


With a little luck, I finally located her.


Though I could not recongise anymore, one look at her I immediately know it is her.

I have finally found you..

This is the picture of her..







haha.. Got you didn't it?
I knew it's cold. Wear more clothes and don't get cold hor.. haha..

8:02 AM


I'm am having my FYP this period and the project that required me to use PDA phone. Wah Pian, first time touching this thing before. It's huge but quite slow. From the model, it's only available recently late last year so it's quite pretty new.

My supervisor loan it to me(Muhaha..) I Can show off around can design my project with a real physical device. It will improve the relationship between the school and student reality of developing project for company. However, when you walk around with this, you will feel "wanted" by robber. Hair drop can grow back, PDA drop your ball also has to drop. Gonna protect it with all my life sia





A picture of IPAQ
(this is dedicated to xb who is in Blk R. Envy this pic? haha)
7:23 AM

_________Drifted all the way...___________